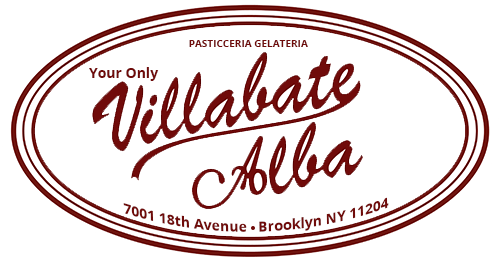 Villabate Alba
Welcome to Villabate Alba, offering the greatest section of Italian pastries, cakes, breads, cookies and much more.
For generations, the Alaimo family has been creating the finest in Sicilian pastries, cakes, cookies and breads.
It all started in the small town of Villabate in the northern region of the island of Sicily where Angelo Alaimo and his son Emanuele started their legacy by baking bread for the locals.
After years of working hard in the country they call home, Angelo and Emanuele followed their dreams of bringing the best in Italian baking to the people and brought their talents to America.
In 1979, after years of hard work as simple breadmakers in bakeries all over Brooklyn, Angelo and Emanuele finally reached their goal and opened a place of their own, Villabate of 18th Ave.
This legendary bakery brought only the finest in Italian bakery creations, from cookies, cakes, pastries and of course, breads. As a family-owned and run business, the Alaimo family, Emanuele, Lina, Angela, Emanuele Jr. and Anthony dedicate themselves to delivering only the most authentic Italian goods to their loyal customers.
After 33 years, and 3 generations, Villabate Alba continues its legacy, being a part of the Brooklyn family, and giving back to the great community that has made it the bakery it has become today.
Cakes: Italian-style cake artfully decorated and deliciously filled with Italian flavors.
Pastries: Perfect little collection of a dozen sweet & delicious Italian treats.
Breads: Hand-made. Always fresh and baked to a wonderfully crisp perfection.
Gelato: We make gelato fresh, using only Elenka flavors imported straight from Italy.
7001 18 Avenue, Brooklyn, New York 11204
(718) 331-8430