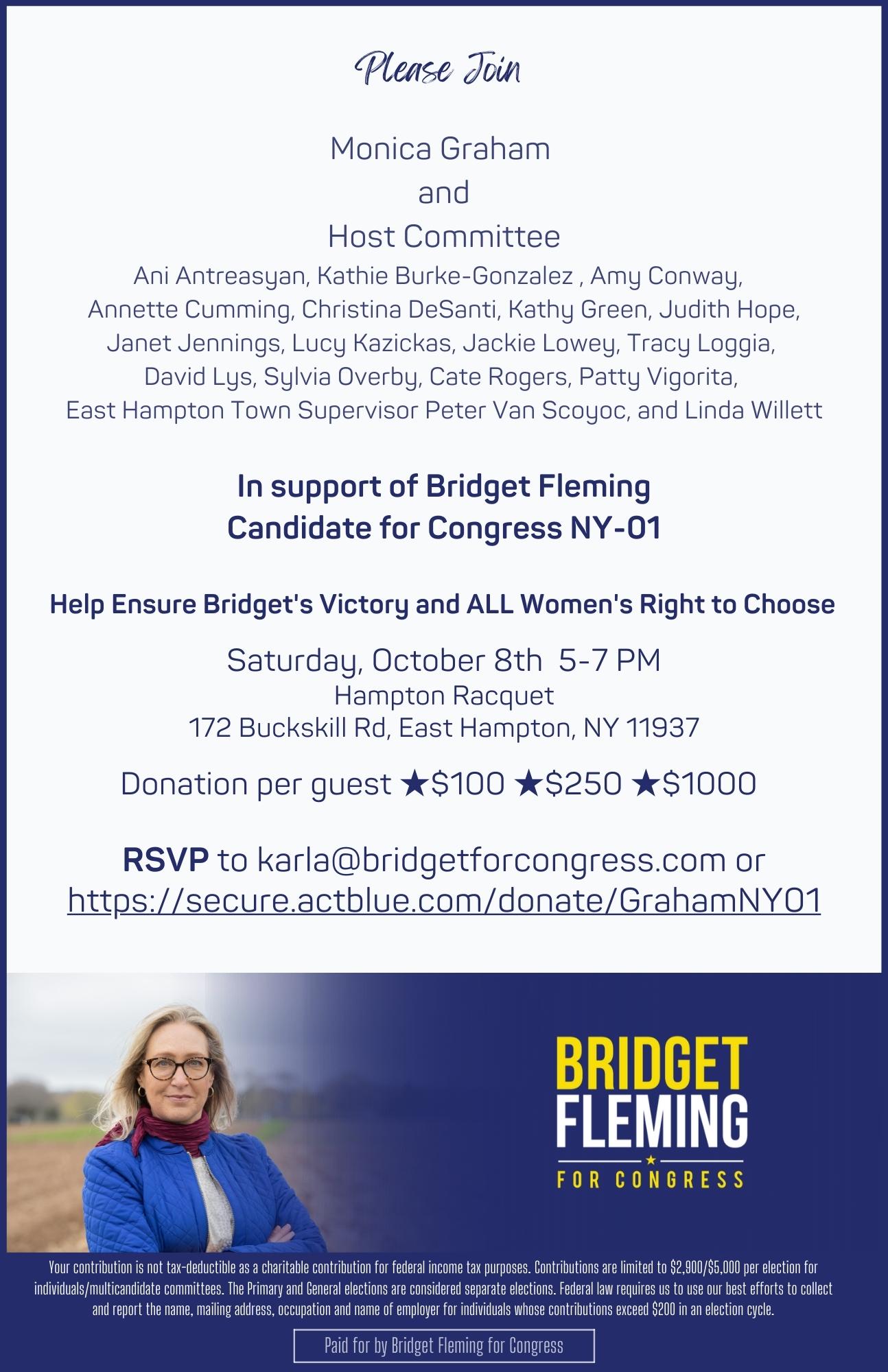 Support Bridget Fleming
Bridget Fleming, the only Democratic candidate in the NY-01 congressional race & wants to continue to fight for Long Islanders in Washington.
Help ensure Bridget's victory and all women's' rights to choose.
Saturday, October 8, 2022 from 5-7:00 PM
Hampton Racquet at 172 Buckskill Road, East Hampton 11937
Donation Per Guest: $100 $250 $1000
"I've been honored to serve Suffolk County's 2nd District as your Legislator, and I'm proud of what we have accomplished together. Our district is unlike any other; we're the largest geographically and have the highest cost of living. This places a difficult burden on our seniors, working families, and young adults. It is my goal to ensure that the unique needs of the Second Legislative District are met."

– Bridget Fleming
Bridget Fleming, Legislator (D)
Biography
A resident of Noyac since 2001, Bridget lives with her husband Bob, a general contractor, their sixteen-year old son Jai who attends public school, and Dune, the family's English Springer Spaniel.
Bridget is a Phi Beta Kappa graduate of Hunter College's Special Honor Curriculum, and received her J.D. from the University of Virginia School of Law, where she received the prestigious Kramer Award for service to the community. Bridget worked for almost a decade as an Assistant District Attorney in the office of legendary District Attorney Robert Morgenthau in Manhattan, where she served as a member of a Trial Bureau and Sex Crimes Prosecution Unit, and later as Chief of a Unit devoted to attacking fraud in public programs. Since leaving the District Attorney's office in 2001, her legal work has focused primarily on Matrimonial and Family Law as well as professional mediation.
Board Experience
Bridget was first elected to the Southampton Town Board in a Special Election in March 2010 and won reelection in 2011 for a four year term. She is an innovative leader for economic growth, an effective advocate for our environment, and a dedicated champion of government accountability. Bridget is ready to take the groundbreaking programs and approaches she has developed on the local level forward, to serve as Suffolk County Legislator for the Second Legislative District. As a seasoned financial watchdog, Bridget helped to restore Southampton's damaged credit rating, turning an operating budget deficit into a healthy surplus. She supported a professional standing audit committee, and fought for proper staffing and financial systems for the Town's Finance Department to safeguard taxpayer dollars.
Bridget kept good jobs on the East End by authoring a law that requires utility companies to remove dangerous and unsightly utility poles, and sponsored a local law that allows volunteer firefighters and ambulance personnel to join the New York State Health Insurance Plan. She worked to create and enhance economic opportunities throughout the Town, with youth training in sustainable building trades and fresh produce retailing, landmark legislation to protect working farms, and real action on much-needed affordable housing development.
Environmental Work
At the same time, Bridget fights to protect our human and natural environment from misguided development. On the Town Board, she was a strong voice, sometimes the lone voice, for close scrutiny of development projects that fail to serve the interests of our East End community.
As a champion of the East End's cherished natural environment, Bridget spearheaded the passage of Southampton's first law to require that fill on construction sites be toxin-free, and led the effort on a long overdue revision to the Town's waste management code. She spearheaded a comprehensive program to protect the Town's coastal resources, and led the charge on the adoption of the groundbreaking Sustainability Element to the Town's Comprehensive Plan. In 2009, Bridget received Sustainable Long Island's "Getting It Done Award" for her success in establishing a youth-run farmer's market in a neighborhood that otherwise had no access to fresh produce.
District Office 2
71 Hill Street, Suite F-1, Southampton, NY 11968
(631) 852-8400
Bridget Fleming's Website