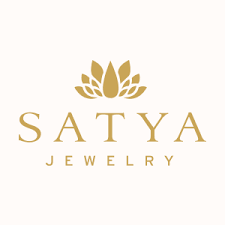 Satya Jewelry
Satya Jewelry is a handcrafted jewelry and lifestyle label. Created in New York. Inspired by the world.
The Satya team is a small-but-mighty team of individuals who reflect the talent, diversity & tenacity of New York City, our vibrant multi-cultural home. Satya Jewelry is a woman-owned and predominantly woman-operated business committed to collaboration, equality & inclusivity throughout our company.
All are welcome. Each is valued.
Designed with Intention: Satya Jewelry is designed with love in New York City. Each design begins as an intention—what it will evoke, how it will inspire and is brought to fruition by our creative team.
Handcrafted with Care: Each piece of Satya Jewelry is made with a commitment to using ethically-sourced stones, non-toxic metals and the highest quality standards for jewelry to cherish.
Made with Love: For every order placed, $1 will be donated to the Satya Foundation which supports children's organizations. Today with your help we have donated over $1,000,000.
Over $1,300,000 and Still Going: Our mission is to provide children in need with tools that empower them with opportunities to thrive. The Satya Foundation is a 501(c)(3) which provides education, opportunities and support to children, all over the world. Today, The Satya Foundation has expanded its reach to support other non-profits and foundations that align with our vision for a more equitable and compassionate world. From India and the Himalayas to Thailand and New York City, The Satya Foundation honors our shared humanity through continued outreach and financial support of these organizations.
Satya – "Truth" In Sanskrit: With a commitment to honor individual truth, Satya Jewelry has been creating inspiring, spiritual jewelry designed for the journey since 2002. Driven by her passion for helping others, founder and CEO Satya Scainetti began a 30-year spiritual journey that awakened a deep reverence for cross-cultural and spiritual traditions. As she enriched her understanding of these sacred practices, Satya's true calling was revealed: To create jewelry imbued with meaning that benefits those in need of inspiration, healing, and empowerment.
Today, Satya crafts pieces using sacred and meaningful symbols and semi-precious gemstones renowned for their healing properties. In sterling silver and 18kt gold plate, each Satya Jewelry design is created to bring joy to its wearer—a celebration of all backgrounds, all faiths and all truths. In partnership with The Satya Foundation, Satya Jewelry remains committed to continuing our mission—one rooted in appreciation for sacred traditions, honoring individual truth and empowering children worldwide through social and economic initiatives.
Satya Jewelry partners with talented artisans from rich jewelry making traditions in India and Thailand to create our cast jewelry pieces. We are proud of our partnerships with these factories, where the people who make Satya Jewelry earn a fair living wage and are employed under safe working conditions.