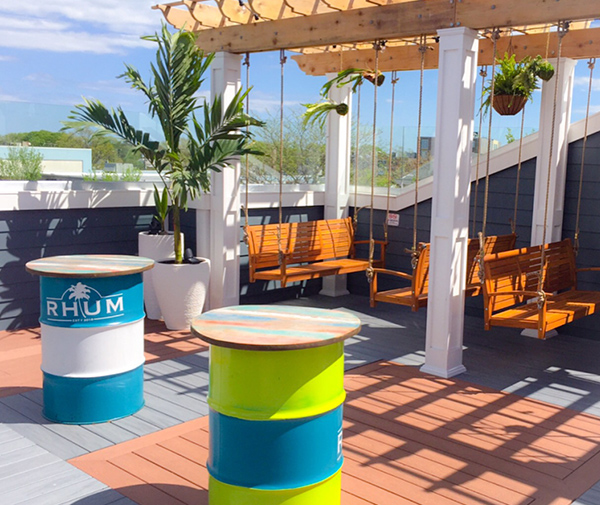 RHUM
RHUM opened its doors in December of 2016 as the first tri-level space in the area to include a rooftop terrace. The venue includes two full-service bars (one on the first floor with seating and gathering space, the other on the third-floor rooftop with swing and lounge seating), along with a full dining room on the second floor with private party space.
"So, let's forget about our worries for a little while, eat some great food, sip some rum and have some laughs…" – David Hersh, Owner
The venue is owned by Rooted Hospitality Group, a growing independent restaurant group that is incredibly passionate about the one thing that makes the world go-round – people. The group started with the dream of creating gathering places that pair sun, soft sand, and refreshing breezes with good drinks, chef-driven food, and great company.
They were very fortunate to see their dream come to fruition in 2010 when they opened their first location in Hampton Bays – RUMBA. Two years later, they had the opportunity to acquire one of the most beautiful properties in the Hampton Bays area and in 2012, Cowfish was born.
ARTWORK AT RHUM: Supporting our community is important to us at RHUM. We are always excited when we can display artwork that reflects our ideals and environment, as well as support a local artist. Ask us about purchasing a piece during your next visit.
13 E Main Street, Patchogue, New York 11772
(631) 569-5944