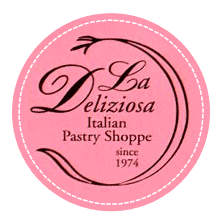 La Deliziosa Italian Pastry Shop
La Deliziosa Italian Pastry Shop has been serving the Hudson Valley Since 1974.
With a well-trained kitchen staff, we guarantee fresh servings of your favorite fine Italian baked goods every day.
Our amazing desserts are only made with the freshest ingredients possible, with pure Italian quality, flavors, and traditions.
Customized Cakes for You: You can count on the skilled bakers at La Deliziosa to make your special occasion memorable. When you trust our highly skilled bakers to craft custom-designed cakes for your special occasion, you can rest assured knowing that the results will be amazing.
At La Deliziosa, cookies and pastries are available for any event or holiday. We can create trays for any occasion. We use only family and old-world recipes.
Get New York-Style Pastries Without The Travel:
Biscotti
Cookies
Cannoli
Sfogliatelle
Baba au rhum
Pies
Italian pastries and baked goods that will make you smile. Indulge in sweet and sassy Italian delights. You can never have just one!
Enjoy a 5% military discount at La Deliziosa!
We offer a special discount for senior citizens on Wednesdays!
We are a recipient of the Best of Hudson Valley Magazine 2009 award.
10 Mt. Carmel Place, Poughkeepsie, New York
(845) 471-3636