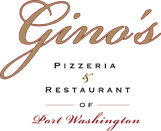 Gino's Pizzeria of Port Washington
Gino's New York Pizza, a family operated business for decades, our philosophy stems from generations of family entrepreneurship in the Italian culinary industries.
Our recipes originated from the sunny lands of Southern Italy.
Including authentic Napolitana pizza and calzones to the staple dishes such as linguini with white clam sauce, stuffed artichokes and hearty old fashioned eggplant parmigiana, which can now be experienced and savored by everyone this side of the Atlantic.
We at Gino's New York Pizza, strive to satisfy everyone's taste buds, by enticing them with the freshest ingredients which stem from the simplest San Marzano tomato, to a creamy buffala Mozzarella, topped with a fragrant fresh Basil leaf. But that doesn't stop there, we can alter our pizza to satisfy even the most discerning pallet.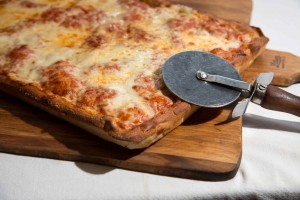 "Where everybody is treated like family!"

Alfredo Vitolo's Parents, Rosa & Armando
Nearly three decades ago these were the simple words Alfredo's parents instilled in him. Little did they know this would become Alfredo's motto and their humble philosophy helped shape the foundation on which Gino's of Port Washington Pizzeria was founded.
Alfredo's parents began the family's rich tradition of serving delicious Italian food in both Italy and New York as far back as the 1950's.
The Vitolo family like countless others, strived for the best for their future generations, moving to the United States in the late 1950's and of course bringing with them the finest recipes from the old country. Alfredo opened his family style Italian Restaurant, Gino's in 1997 featuring Authentic Family Recipes, based on home style cooking and traditions past generation to generation by his parents.
Alfredo, continuing in his parents footsteps, opened his restaurant with the focus and dedication his parents had and continue to, serving the most delicious Italian favorites with the passion that his family will always have.
Gino's Pizzeria of Port Washington is Open Every Day 10:00 a.m. – 9:00 p.m.
48 Main Street Port Washington, NY 11050
(516) 944-0276