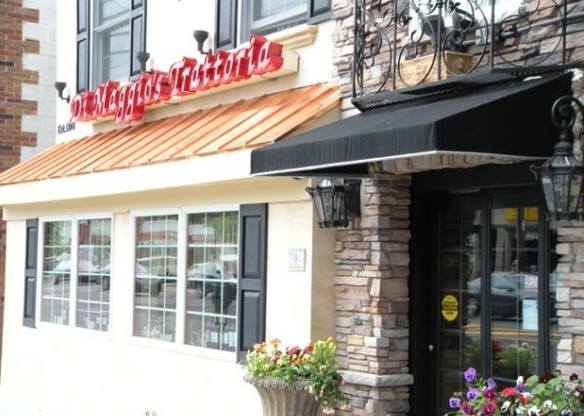 DiMaggio's Trattoria & Bar
Since 1978, visitors to DiMaggio's Trattoria & Bar are greeted with warm welcomes & traditional Old World fare in a casual atmosphere.
Complimenting the quality and ambiance of DiMaggios is the hand-painted mural, stone pizza oven, and ever-changing blackboard with daily specialty offerings.
However, the real attraction, and the reason DiMaggio's Trattoria & Bar has a loyal following, is the commitment to preparing food with only the finest and freshest ingredients. Each dish is made to order and we are happy to create a dish to your liking – just let us know. And, if you are having a party, family event or just a large group of friends, be certain to ask about our private Courtyard Room.
In 1978 DiMaggio's opened its doors in a Port Washington storefront. Since then many changes have taken place. Not only has DiMaggio's grown, but many of our first customers still visit us regularly – only now they come with their children and even their grandchildren. We have enjoyed growing up with many of you.
The recent construction of an additional room in the restaurant makes it possible to host great parties for groups from 20 to 50. This room replicates a courtyard (cortile) much like you would find in Angelo's hometown of Conversano in Bari, Italy. We also have added a full bar to the main dining room.
At DiMaggio's Trattoria we serve Old World traditional dishes in a casual atmosphere. That is the essence of a Trattoria – a place where there is something to please everyone – from a slice of pizza, a hero, chicken parmigiana or pasta fagioli to a juicy, roasted veal chop. Here we also share with you our favorite dishes from growing up in Bari, Italy and Williamsburg, Brooklyn – polenta, stuffed zucchini blossoms, sepia (baby squid), jumbo artichoke Oreganata to name a few. Also, ossobucco over homemade gnocchi, cavatelli, and the Italian Flag – gnocchi pomodoro, pesto, and alfredo!
Enjoy pizza or a pizzetta from our authentic stone oven. Create your own or try one of our favorites like white pizzetta with roasted wild mushrooms. To accompany your meal try the DiMaggio's bruschetta – flat pizza dough, baked crisp and topped with chopped salad and fresh mozzarella, or our homemade focaccia – soft baked bread slathered with hand-crushed tomatoes and garlic.
In addition to our regular menu check our blackboard specials. You'll find fresh seafood dishes that change daily such as Salmon Napoletana, whole Bronzino, and red snapper marechiara with clams and mussels.
Be sure to save room for our homemade desserts: tiramisu, Marianne's Italian cheesecake and famous chocolate cake plus our tartufo, cannoli and more.
Prefer enjoying our authentic old world fare at home? Our entire menu is available for carry out. Just check our catering menu in the menu section of our website.
We hope to see you and your family soon. Come in and say hello. Your hosts, Eddy and Angelo
706 Port Washington Boulevard, Port Washington, New York 11050
For pickup, please call restaurant directly (516) 944-6363.
Open 6 days a week for lunch and dinner:
Monday Closed, Tuesday-Friday 11AM-9PM Saturday 11:30AM Sunday 12:00 AM – 9:00 PM