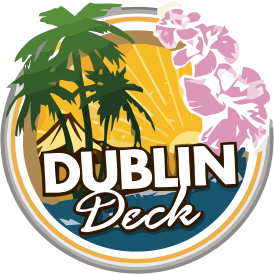 The Dublin Deck
The Dublin Deck offers awesome food & drink specials and a new taste of the tropics!
Gather your friends & family and come join us on a mini vacation escape right here on Long Island, at the one and only Dublin Deck. Smack on the Patchogue River, where everyday is a getaway!
It all started with a small tented cut down Cabin Cruiser in 1998. This small shack of a bar, called "Leaky Tiki" was the pearl inside the oyster in the eyes of Dublin's owners. Their small, fish sandwich hut soon became what is now The Dublin Deck, Leaky Tiki.
Today, Dublin Deck is a seasonal destination venue unlike any other in the Northeast, United States. Whether you are looking for beach volleyball in the sand, or great food & tropical cocktails under the palm trees, "The Deck" offers something for everyone!
We are open seven days a week for lunch, dinner, catering and cocktails. Our tropical escape is a destination venue for those near and far. From the moment you pull in and see the tall palm trees swaying in the Summer breeze off the Patchogue River, you'll instantly feel like you are on vacation!
325 River Avenue, Patchogue, New York 11772