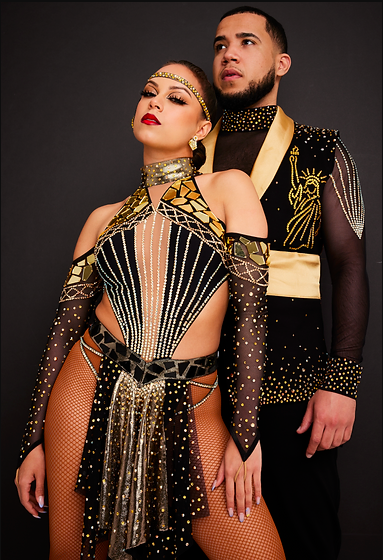 Angel & Stephany
Angel & Stephany are professional Salsa dancers in New York City.
Currently, Angel & Stephany offer weekly Salsa classes, both online and in-person in NYC.
Their students hail from all over the world, often traveling great distances to train with them. As a duo, they are known for creating a fun and accessible environment for all. People are drawn to them for their unique style, and students praise them for their ability to break down movement and make it approachable for people from all backgrounds and at all levels of dancing.
Together, the couple has also cultivated a reputation for their dynamic performances. Their routines are filled with personality and splendor, and have wowed audiences from New York to Australia. Both are technical dancers, but above that, they bring energy and their individual flavor to every routine. Audiences have also come to know and love them for their attention to detail, from costumes to choreography and makeup. What they bring to the table is full spectrum and thoughtful.
Angel and Stephany are based in New York City, where they continue to train and establish themselves as rising stars in the dance scene. This is only the beginning for this ambitious and charismatic couple. They continue to make their mark in the international Latin dance community, earning recognition and respect from their mentors and peers.
Together, Angel & Stephany are a force to be reckoned with! After debuting their first routine in November 2018, this young couple quickly developed a fan base all over the world. They have been invited to teach and perform throughout the United States, Singapore, Cuba, and Germany, among many other places around the world.