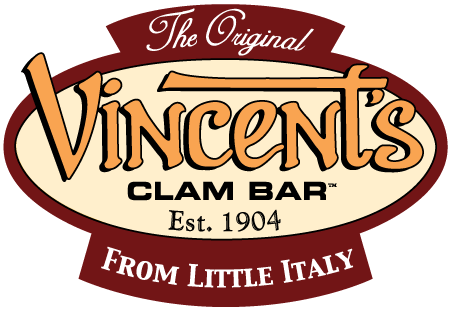 Vincent's Clam Bar
Vincent's Clam Bar, one of Long Island's best Italian restaurants.
The year was 1904 and the place was New York's Little Italy. Giuseppe and Carmela Siano emigrated from Italy with hopes of creating a better life for their son Vincent. With a love and desire to share their knowledge of how to prepare and serve the food they missed from back home, they began selling seafood from a pushcart on the corners of Mott and Hester Streets in New York City.
People began coming from near and far to sample their calamari, scungilli, shrimps, mussels and clams; all prepared with their soon to be world-famous Mild, Medium, and Hot sauces. Because of the overwhelming success of their business, they decided to move into the storefront on that same corner naming their new restaurant after their son. The Original Vincent's Clam Bar was born.
Today that "Old World Tradition" continues at Vincent's Clam Bar.
From artisan pizzas to an array of salads, pastas, seafood, and Italian specialties, the menu at Vincent's is as diverse as it is delicious. Oversized portions of innovative and creative dishes as well as traditional favorites are prepared in an open kitchen in full view of everyone dining It's recommended that you leave some room for dessert because the homemade cannoli's, tiramisu, napoleons, apple pie and fired table side crème brulee are well worth the wait.
So whether you're looking to enjoy an authentic home-cooked Italian meal for lunch or dinner or the perfect place to celebrate any special occasion or event… Come see for yourself what everyone is talking about as The Spirit of Little Italy awaits you at Vincent's Clam Bar in Carle Place Long Island.
179 Old Country Road Carle Place, NY 11514
(516) 742-4577