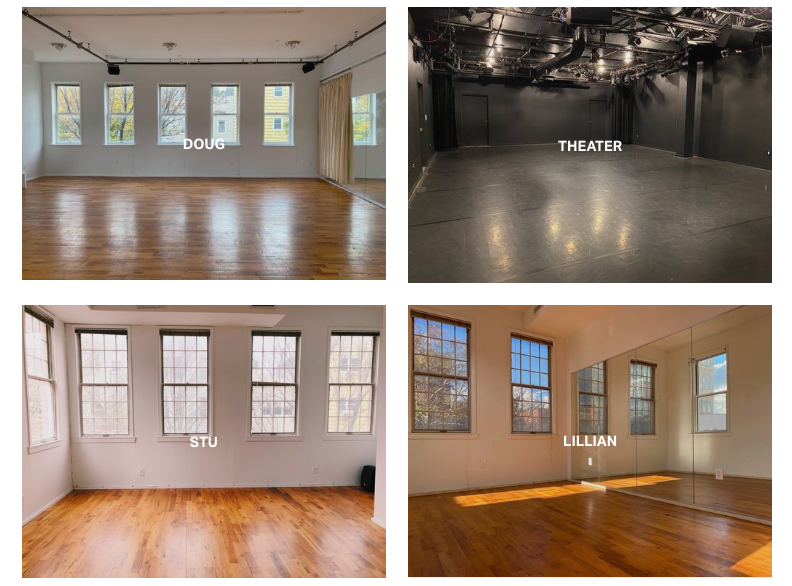 Triskelion Arts
Triskelion Arts, lovingly referred to as Trisk, is an artist-run, non-profit organization and live performance venue. We offer NYC-based dance and movement artists high-quality, sustainable opportunities to create and present work. We act as an incubator to counterbalance mainstream productions and ideologies. We dedicate our efforts to providing a platform for trailblazing work that broadens the cultural dialogue and elevates our community's many voices and perspectives.
trisk: the process of throwing ideas around & turning them into action.
Our goal is to connect artists and audiences while minimizing barriers to entry.
We are a band of creatives, nimble, hospitable, crafty, and constantly inspired. These notions are woven into the fabric of our existence. Given this, we build our community, our programming, and our output on the premise of being heard.
We honor the core of what Trisk is founded on: a home for artists and audiences to create and connect, to make things happen, to make magic. From the beginning, leadership has been artists themselves, and that is still true today. Our board and directors are artists, which helps us understand more clearly the needs of our community. We meet with artists we are currently programming and ones we hope to program in the future; we ask them what they need; then we go figure out how to get it for them!
At Trisk, we do not use words like mid-career, emerging, underground, DIY, we are all emerging, we are all in the middle of something, in every moment working towards something new. We present artists practicing, crafting, mining, experimenting, speaking up, and speaking out. We are small but mighty, and our artists are pure magic. That's it.
Our mission is to clear a pathway for artists to focus on being artists.
HISTORY:
Trisk has been an integral part of Brooklyn's cultural landscape for the past 22 years, presenting movement-based artists on our stages and fostering their creative processes in our rehearsal studios. We opened in 2000 in Williamsburg with a single studio, and in 2015, we moved to our current Greenpoint home with an 78-seat black-box theater and 5 rehearsal studios. More than 800 original productions have taken place on our stages, and artists have used countless subsidized rehearsal hours in our studios.
In August 2019, we were recognized by the city for our outstanding work in our communities with an official citation and the seal of our borough.
COMMUNITY GUIDELINES:
Trisk agrees to providing and maintaining a safe space and an inclusive home free of mistreatment, judgment, and dismissal; operating with compassion, love, and consideration; continually cultivating an environment where care and trust inform our actions; to respecting each person's humanity; to work in collective collaboration with our community to find solutions and evolutions; not to tolerate violent or abusive speech or actions; to constantly evaluate ourselves and hold ourselves accountable. We look at ourselves as collaborators, not gatekeepers. We strive to listen and not assume. We understand that there is more than one way to achieve a goal.
ACKNOWLEDGEMENT:
We respectfully acknowledge that the work of Triskelion Arts is situated on the traditional, ancestral, unceded territory of Lenapehoking, the homeland of the Lenape peoples. We pay our respects to their land, water, and ancestors, past, present, and future. This acknowledgment demonstrates a commitment to the process of working to dismantle the ongoing legacies of settler colonialism and to learn to be better stewards of this land.
106 Calyer Street Brooklyn, NY 11222
(718) 389-3473