Tibetan Sound Healing: 5 Seed Syllables of the Warrior Mind
TIBETAN SOUND HEALING: THE FIVE SEED SYLLABLES OF THE WARRIOR MIND WITH TENZIN WANGYAL RINPOCHE
Wednesday, January 19, 2022, 7:00 – 9:00 pm ET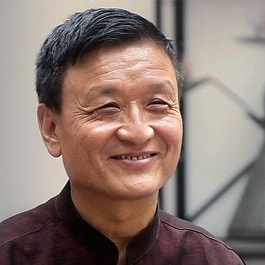 One of the world's oldest unbroken spiritual traditions is the Bön Buddhist tradition of Tibet. This wisdom path has survived, thanks to the efforts of a handful of dedicated teachers such as Bön lineage holder Tenzin Wangyal Rinpoche, the founder and spiritual director of Ligmincha Institute, an acclaimed author and highly respected teacher.
During this evening event, you are invited to learn from a master of this ancient lineage, and discover the power of sacred sound.
According to Tenzin Wangyal Rinpoche and the Bon Buddhist tradition, the first sounds that arose from the essence were the five warrior seed symbols, (A, Om, Hun, Ram and dZa).
Rinpoche says:
⁠
"Before the development of human language, there were only the sounds of nature: waterfalls, wind, rain. Sound had no conceptual associations. When we trace sound farther back to its very beginnings, we arrive at the pure, primordial sounds of the seed syllables."
These syllables are termed warriors because they have the power to control and overcome negative emotions, problems and dilemmas that we face in our daily life. Join us and learn firsthand how these warriors are connected with the chakras and have the potential to expand our awareness and clarity of mind.
Early Bird Fee: $40.00 (valid through Dec 7), after that $50
There are still openings remaining at this time.
WHAT YOU'LL NEED FOR THIS COURSE: Zoom webinar software.