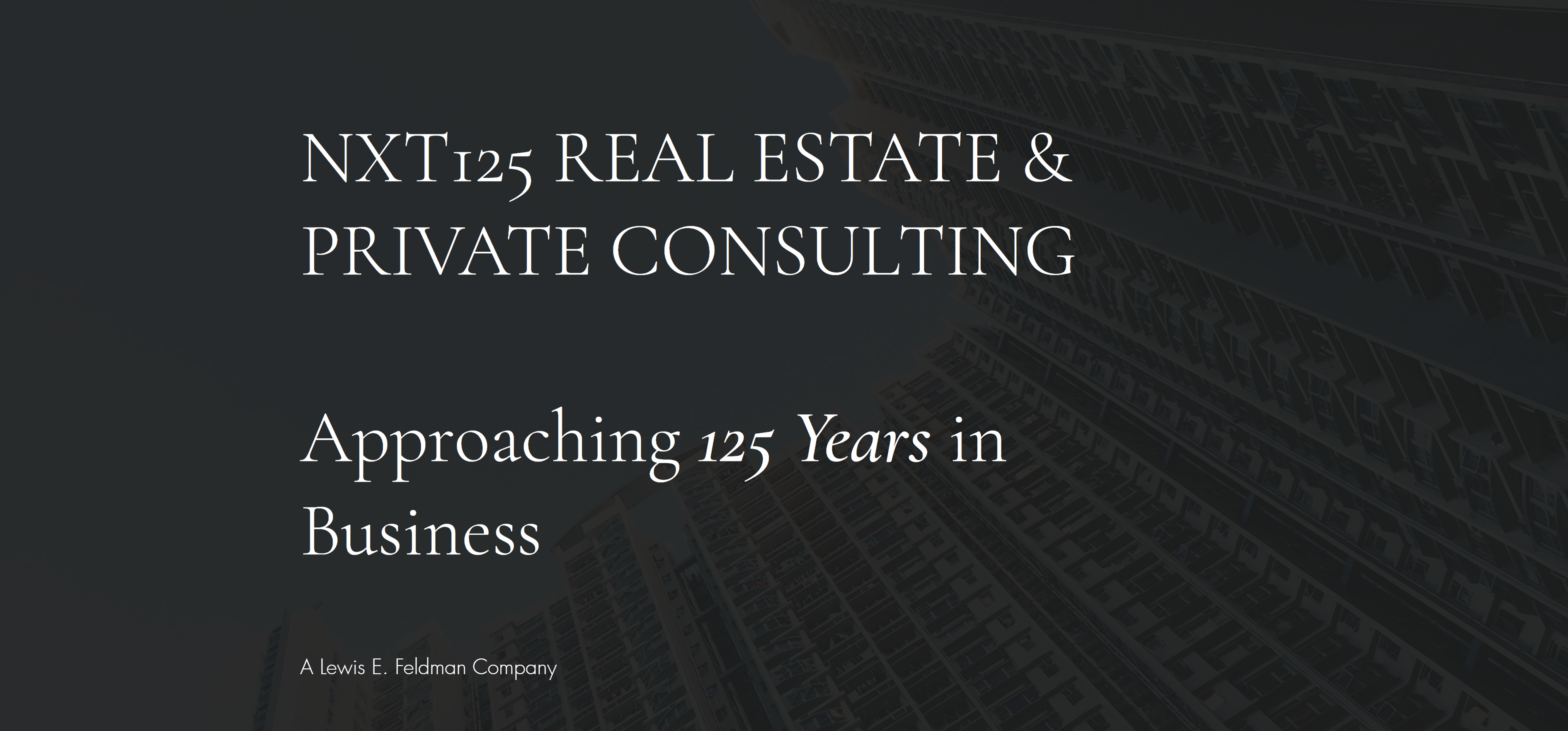 NXT125 Real Estate & Private Consulting
NXT125 Real Estate & Private Consulting – Approaching 125 Years in Business – ​A Lewis E. Feldman Company
I have the very special honor of launching NXT125, our latest iteration and sole link in a very long, strong, unbroken chain, formed to continue moving forward and to pay tribute to this great milestone and all that have come before.
NXT125 PRIVATE CONSULTING GROUP
Our completely confidential consulting services are laser focused on sophisticated, high net worth individuals and companies, both international and domestic, providing services to a wide variety of businesses, as well as those who have real estate as their core business. These can include individuals & investment-based entities that have assets in need of repositioning or broader value enhancement, or those looking to enter into a particular market sector for development or acquisition with experienced, top tier professionals on their side.
We will always provide the highest level of discretion and privacy for our clients, whether you want to be completely passive or very active. We will, based upon our extensive experience, seek to meticulously provide our guidance from start to completion and match you with the best of the best for any need. In plain language, we can prepare you or your designee / team for a wide variety of meetings or negotiations, or we can take the lead position, should you desire to remain in the background, utilizing this approach as a very effective negotiating tool.
In order to provide the best possible individual service to each of our Clients, as a rule, we will never take on more than ten Clients / Projects at a time. This would only vary based upon the respective sizes of the projects and assignments in place.
Development Consultation & Multi-Faceted Owner Representation:
As your Project Consultant, we will assemble the best available professionals to provide the precise input necessary to the owner/developer regarding any requested elements in the development process. This could include, but would not necessarily be limited to:
​Working with you in assembling a team for site analysis and selection.
​Assisting / coordinating between Client, counsel and architect in the entitlement / permitting phase.
​Review and/or engage in direct negotiation with both individual contractors and any or all phases of the general contracting / development process, working to create a highly efficient collaboration between team members, architect, general contractor and all of the parties who will be integral to the pre-development and development processes.
​General review of all relevant real estate & related contracts to provide comments & questions for review with attorneys as necessary to streamline the process for the benefit of the Client.
​Input on project concept and design with emphasis on creating the most cost effective balance between form & function.
​Assist in retaining and/or working with the best marketing and brokerage firms that we can bring to the table in each target market to arrive at the most profitable options for presentation to the Client.
​Our service is best utilized by owners/developers/investors that plan on taking on either an active or passive role in developing or repositioning their project, but would like the benefit of professional, objective advice on an as-needed basis. We are equally comfortable in both lead and supporting roles.