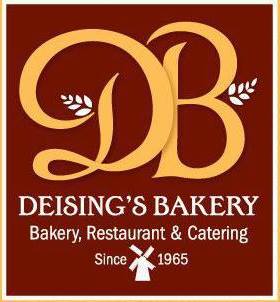 Deising's Bakery and Restaurant
Food inspires. Food serves as a centerpiece for great events. Food builds families, communities, and even nations. Fresh food, prepared with loving attention to detail, makes mouthwatering memories.
Deising's Bakery, Restaurant, and Catering Company, a culinary cornerstone of the Hudson Valley, has been baking those memories since 1965.
We've provided generations of loyal customers with the most delectable baked goods and deliciously inspired cuisine from traditional American to German, Italian, and even Mexican flavors. Countless families have celebrated some of life's most special moments with us from engagements, weddings, anniversaries, baby showers, birthdays, and even funerals. Deising's is here to make every family event one to remember.
It all started in 1960 when Ingrid and Uwe moved from their hometown of Hamburg, Germany to the United States in search of the American dream. Although they both grew up in Hamburg, they did not meet until they were both living in Long Island. They quickly fell in love, got married, and started a family. Uwe's passion was baking, in fact he was the youngest person (at the time) to become a Certified Master Baker in Germany at the age of 22. Ingrid graduated from Schlankreye International Business College in Germany with honors.
Ingrid's passion was cooking, and she dreamt of one day opening her own café. After 5 years working in different bakeries and restaurants on Long Island, they came across an ad in the NY Times for a bakery for sale in Kingston. Four days later they purchased Ketterer's Bakery. After 15 years of operating as Ketterer's Bakery, they purchased an old vacant Goodyear Tire Repair Center in Uptown Kingston. This building gave Uwe the space he needed to grow the bakery and Ingrid the space she needed for her café. Ingrid's homemade soups and sandwiches became so popular that they soon outgrew the small café space leading to the purchase of the two buildings next door which are now our restaurant and catering rooms.
Today, Deising's operates as a retail and wholesale bakery, breakfast and lunch restaurant, and catering company. We have won numerous awards over the years such as "Best Breakfast in the Hudson Valley" "Best Cookies in the Hudson Valley" "Small Business of the Year" by the Ulster Regional Chamber of Commerce, to name a few, although our proudest moment was winning the "Retail Bakery of the Year" award from Modern Baking Magazine.
All of Desising's products are baked fresh daily, using recipes handed down from our father, as well as recipes we've collected throughout the world. We use only the finest and freshest ingredients available, many of which are imported from Europe so we can recreate authentic desserts from the "Old World"
Uwe and Ingrid retired in 1999 but left their children a great foundation on which to build. We are now in our 3rd generation running this business and are proud to continue the family tradition of offering the Hudson Valley the finest baked goods.
Our mission: "to produce high quality bakery goods and great customer service at a fair and reasonable price for our customers" is what we live by.
111 North Front Street, Kingston, New York
(845) 338-7505
BAKERY HOURS:
Mon-Thu 6am-5:30pm
Friday 6am-6pm
Saturday 6am-5pm
Sunday 6:30am-3pm
RESTAURANT HOURS:
Breakfast & Lunch All Day!
Mon-Sat 6am-4pm
Sunday 6:30am-2pm