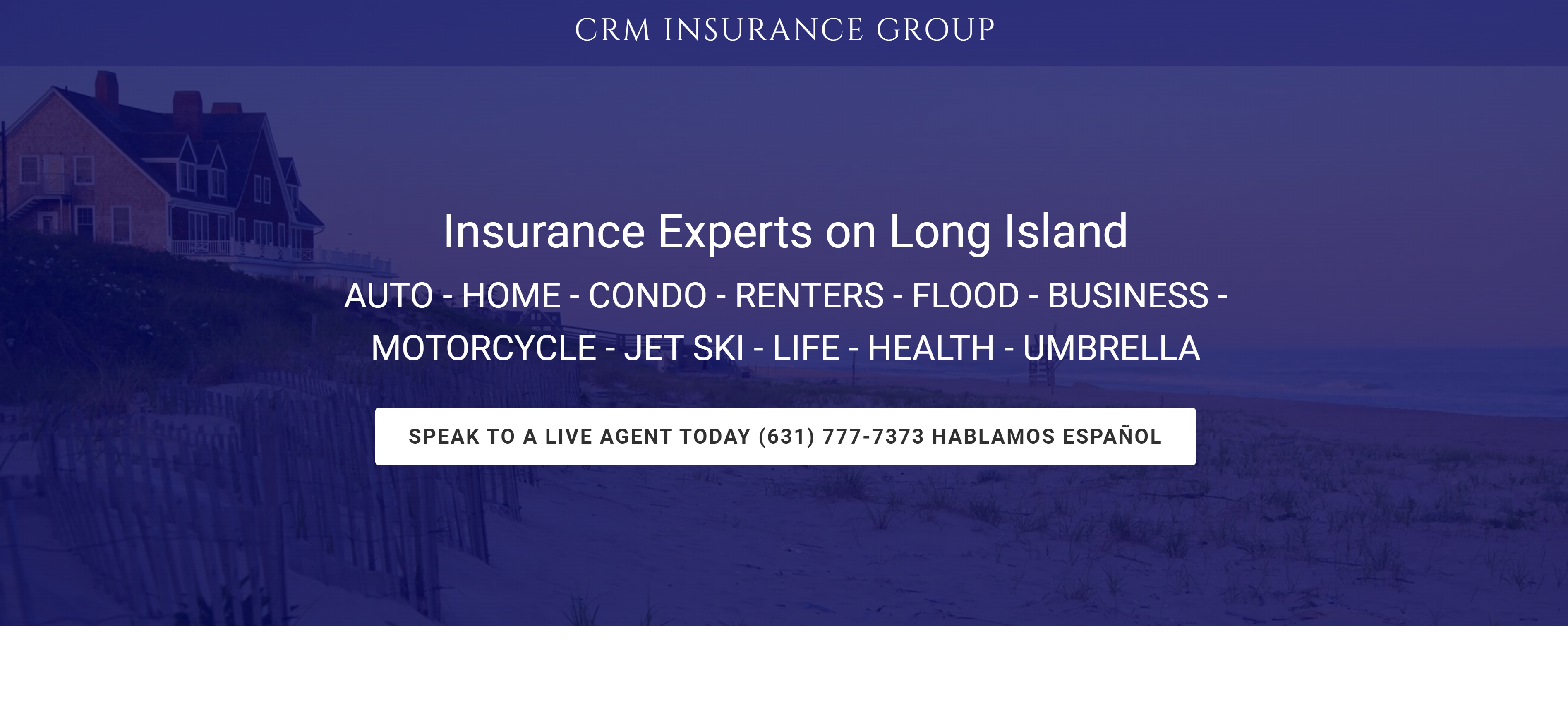 CRM Insurance Group
CRM Insurance Group: Insurance Experts on Long Island
AUTO – HOME – CONDO – RENTERS – FLOOD – BUSINESS – MOTORCYCLE – BOAT – JET SKI – LIFE – HEALTH – UMBRELLA
BOP – Commercial General Liability – Commercial Property – Group Medical & Dental – Medicare Supplements – Medicare Advantage Plans – Medicare RX plans – Professional Employer Organization (PEO) Services
SPEAK TO A LIVE AGENT TODAY (631) 777-7373 HABLAMOS ESPAÑOL
Everyone has different insurance needs. Call CRM Insurance Group for a personalized business or individual assessment and find out how we can help protect your hard-won assets. We can access many different insurance products to get the right one for you.
As a Professional Employer Organization (PEO), CRM Insurance Group also provides personnel management solutions & HR services to small & mid-size businesses, giving owners time to focus on the missions of their business. Plus, you have access to seasoned experts in tax, insurance, labor law, benefits & workers compensation.
We have years of insurance experience helping clients prepare for the unknown. Call our insurance brokers today. We'll analyze your needs and get you covered quickly, and at the right price. (631) 777-7373.
NY Defensive Driver's Course Discount
Save money now, save even more later.
Car insurance payments getting you down? Points on your license making things worse?
Defensive driving courses are an effective way to reduce your car insurance payments and remove points from your license.
Defensive driving courses can take up to 10% off your car insurance premiums, saving you hundreds of dollars per year.
Save 10% now! Now, you can also save 10% on the NY defensive driving course by using our code link: empiresafetycouncil.com/CRM10/