Alex Reynoso Art
Alex Reynoso Art is providing art to everyday lives.
LOCATED IN NEW YORK CITY – OBTAIN ALEX REYNOSO ART ANYWHERE IN THE WORLD.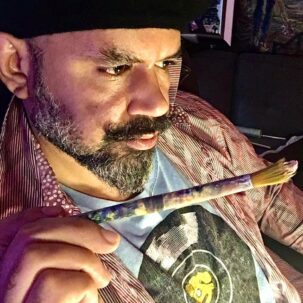 About Alex Reynoso Art
Born in 1974 in the Bonao region of the Dominican Republic, Mr. Reynoso credits his cultural heritage and his move to New York City as the two more significant influences on his work as an illustrator, painter and drawer.
Mr. Reynoso was raised in Spanish Harlem and lived mostly in the Bronx the rest of his life. Discovered his own talents and the love for paintings in 1992 then combined his knowledge with graphic design, cartooning and illustrations.
Creates art utilizing and incorporating all media he can find. "Art is about building bridges, putting up temples and knocking them down, redefining the known, and discovering the imagination." Spends his life discovering new things and taking on new challenges. the people around him.
Reynoso's work is fluid that features multi-layered images in which the fragility and instability of our seemingly apparent reality are no longer obvious. His work inspires and cultivates his viewers in a thought-provoking way that most clients appreciate.
Reynoso's objective is for viewers to make personal connections with his art, as he aspires to share his journeys in a way that is both welcoming and inspiring.
"Whoever said money can't buy happiness simply didn't know about shopping for art."