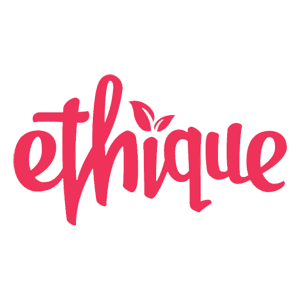 Ethique
The journey of Ethique: It all started back in 2012 when Brianne started mixing formulas up in her kitchen at her Christchurch (New Zealand) home. Back then, plastic-free wasn't the huge concern that it is for many today. Solid beauty bars weren't a 'thing' and they definitely weren't available from your local supermarket – or even Amazon.
"I started Ethique out of frustration for the abhorrent amount of waste created by the cosmetics industry, and in particular, the amount of plastic and waste created by our bathroom essentials. I figured out that up to 95% of your bottle of conditioner is made up of water – which is just ridiculous considering you have water in your bathroom!
I have always been deeply passionate about the environment and science and so I set about learning cosmetic chemistry (I was completing my Bachelor of Science at university at the time), and looked to formulate a solid shampoo. I figured that switching to a solid product would be the answer not only to the water waste issue, but also plastic waste".
Plastic free packaging:
Growing a plastic free business has not been without challenges, many unique to us. Growing any business at the pace we have grown is tough, but encouraging people to get behind an unusual product was at first, very difficult.
"In the early days, I went through four packaging providers, all who told me that what I wanted wouldn't work. The boxes would break down on the shelves, they wouldn't survive shipment and that it was impossible to guarantee sustainable stock. It was apparent they didn't understand the need for boxes that were free of laminates, coatings and chlorines and weren't prepared to experiment. Now we work with two incredible New Zealand packaging providers who exceed my requirements."
Producing solid bars:
Producing solid bars is limiting for obvious reasons and as we're essentially creating products from scratch that don't exist, formulation is hard.
"I was on my own for many years figuring out how to invent solid face creams and self-tanners. Now, whilst I do most of the initial concepting and formulation still, I have a team of very clever chemists and engineers who figure out how to scale a product that is difficult to make. They have had to invent and build new machinery and processes to keep up with the demand, which was particularly challenging during our periods of biggest growth."
Plastic-free shipping:
Logistics is extremely challenging as the use of plastic is deeply intertwined into most warehousing systems.
"Working with logistics facilities and retailers who don't get it is extremely frustrating. We have had retailers shrink wrap bars or stick plastic labels on them. We've had logistics facilities promise to ship plastic free only to fill boxes with bubble wrap and polystyrene. What has worked for us, has been getting our partners to understand why we require our products to be plastic free in every way. Because when they get it, they then look to change the way they do business and expand their environmental actions beyond just our products."
Our bars are proudly shipped plastic free by New Zealand Post from our warehouse in New Zealand. In 2020, we launched a new plastic-free warehouse in the USA which ships completely plastic free and will also significantly reduce the carbon footprint of our bars.
Ethique is here to put a bar in every shower and revolutionize the cosmetics industry.
Get 20% off your first purchase with this link!