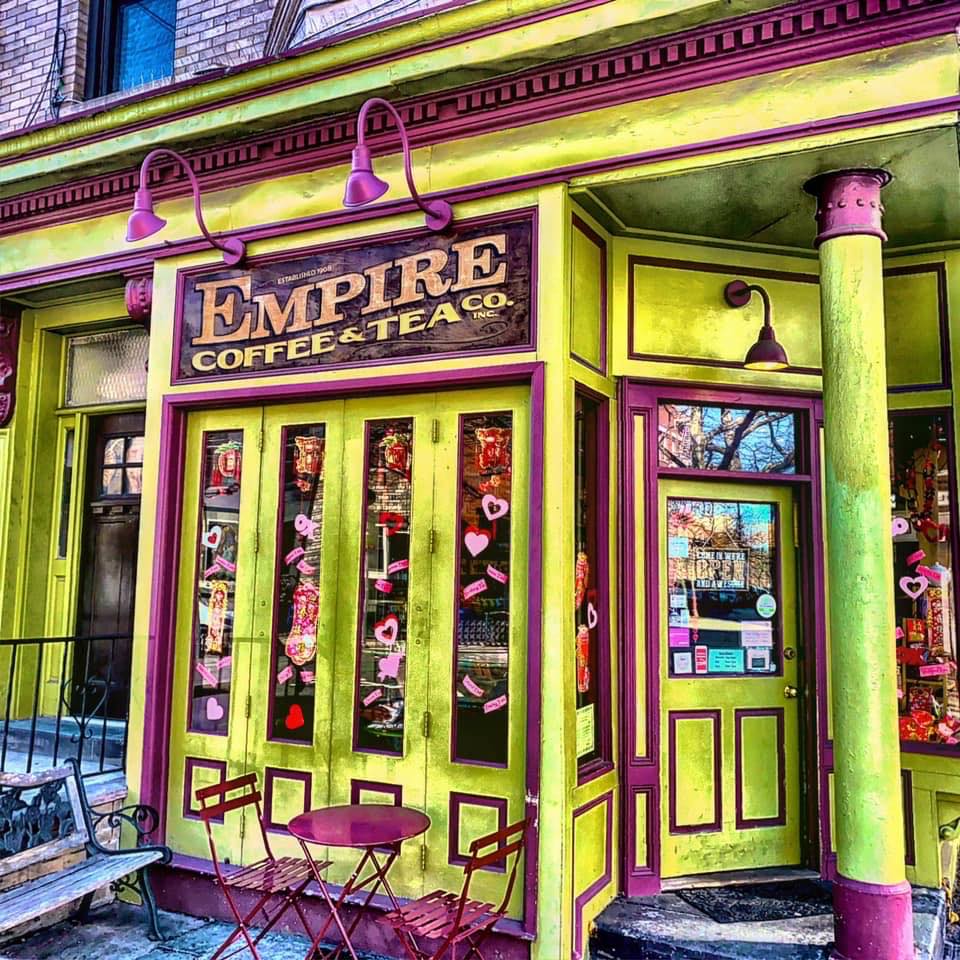 Empire Coffee & Tea Co.
The original Empire Coffee & Tea Company is at 568 Ninth Avenue NY, NY on an out of the way stretch of that avenue famous for its gourmet foods.
The Ninth Avenue Empire Coffee & Tea Company is not a pretty little boutique shop. Nope. This store is all about fresh ground coffee and unique tea … lots of it.
Bags and bags of every imaginable fresh roasted gourmet coffee from around the world cover the walls and floor. The selection is dazzling and the smell: intoxicating.
Ninth Avenue is the cradle of NY gourmet hip. It's where the great food is at great prices. It's everything you imagine shopping in NY, NY ought to be — high-quality, great bargains, and worldly style.
This store is sharp, smart, and fast. It's for New Yorkers! They want the best coffee in the world … they want it right now … and they want it cheap.
As the stores and restaurants in Hoboken (the birthplace of Frank Sinatra and baseball) get newer, brighter, shinier, and slicker, Empire Coffee & Tea Company gets tastier and more relaxed. There's a buzz of hipsters, creativists, and generally java cravin' ne'er-do-wells in and around this place; and a near constant stream of artists, musicians, day-jobbers, freelancers, web designers 😉 and bankers sipping cups a' Joe.
Hundreds of snapshots clutter the walls with the faces that make Hoboken — how shall we put it? — Different? You can see the rogue's gallery of exotic Empire java mongers right here on the gallery page.
Abbe runs it (and owns Empire along with her husband). She pretty much knows every single person who walks by. And every single one waves. Many holler. You can see her sitting on one of the benches that turn the sidewalk in front of Hoboken Empire into the porch of a general store. The only thing missing is a checker board, a rocking chair, and the whistle of the 5:15 from Hooterville.
Oh … they have the same amazing, fresh roasted gourmet coffee as the New York store too!
568 Ninth Avenue New York, NY
338 Bloomfield Street Hoboken, NJ
---